We have given out awards for the first semifinal to introduce predictions and review the last developments again, and have already been asked if and when the same thing is going online for the second semifinal. Of course we will do it, and here you go: Second semifinal, prediction and awards!
Latvia: Award for the most wearable outfit
He may have to share it with Freddie actually. But I like leather jackets, so if I had to choose one to wear in everyday life, my choice would definitely be Justs's.
Poland: Award for the most strings on stage
I doubt I have seen many entries with three violinists and a cellist that are actually on stage. Maybe that's the way it was done in mediaeval Poland?
Switzerland: Award for the worst hair and dancing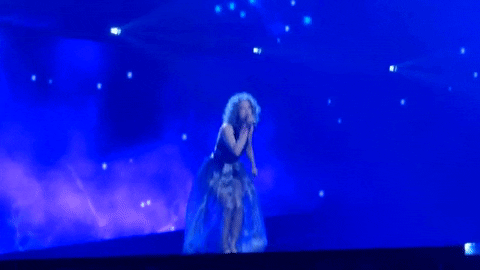 How can she think this is a good idea?
Israel: Award for the best bitchfight-starting
Cause you may be a star in the Netherlands, but you will never be a star somewhere else. Also: Bonus Award for sparklyness!
Belarus: Award for the best PR stunt
Nobody in that delegation was ever believing they could perform with living wolves and naked. But damnit Belarus, you showed us how to get attention your way…
Serbia: Award for the biggest styling improvement


versus


Or: How to stop looking like a parody of yourself and look like a serious human being instead.
Ireland: Award for the most un-fitting lighting
He doesn't only sing about sunlight, it's also an upbeat, positive-vibes song! You just don't stage those dark! Or to quote Shi: "Ireland's sunlight needs to replace a bulb."
(FYR) Macedonia: Award for the oldest song
Nevermind San Turkey's (failed) retro attempt, or Russia's datedness, Austria's Alizée reject or Moldova's mid-2000's dance song. This sounds like a slightly dated 1990's entry.
Lithuania: Award for the cheapest Justin Bieber Ripoff
Boy, just because a Baltic Beaver is popular a Baltic Bieber won't work. Especially cause there may not be too many teen girls voting. Pick a target audience actually watching Eurovision next time, Donny!
Australia: Award for the most annoying vocal acrobatics
I know this is a somewhat popular singing style, but in the amount, key and volume she does it in, it sounds like someone needs to go out there and rescue her. Or rescue me.
Slovenia: Award for the most idiotic staging decision
Now many claim that this never had a chance from the beginning, but when it came out, I liked it in a Soluna Samay way. A breath of fresh air with an actual band and stuff. And now they take the main selling point of an entry low on them away. Thanks for nothing.
Bulgaria: Award for the biggest disappointment
All season long even. First the disappointment of If Love Was A Crime compared to Na Inat. And then the dress, and the Vilija-tribute dancing which doesn't work. This was best when all we knew about it was that it will be Poli Genova.
Denmark: Award for the laziest song
Not only did they deliberately try to make it as average as possible, they also… got inspired by Helene Fischer of all people. Nice try, Denmark. Well, actually terrible try, Denmark.
Ukraine: Award for the most non-understandable song
Okay, I try not to trash this song too much, because I know it has its fans and I simply don't get it. But who thought this would be perfect for a fun saturday night?
Norway: Award for the coldest production
Apparently this is wanted (and it makes sense when the song is called Icebreaker) but it's cold. Very cold. To the point I find it soulless and repulsive.
Georgia: Award for the naughtiest lyrics
"Night will come and so will the sin". I like naughty lyrics.
Albania: Award for the most forgettable song
Can you remember anything else than "That's why I love YOUUUUUUU"?
Belgium: Award for the coolest beat
Too many songs with dancy beats sound similar, forcing you to dance by vibrating your body in the rhythm. While this one doesn't make you dance but makes you want to dance.
Well, there we are, 18 more awards given out. 10 can stay, 8 must go – but who? I glouriously failed in the first semifinal, so let's see if I can do better this time.
SURE QUALIFIERS
Australia (unfortunately)
Latvia
Serbia
Ukraine (unfortunately as well)
Bulgaria
Norway
UNSURE QUALIFIERS
Georgia (but it really should)
Belgium
Poland
Israel
UNSURE NON-QUALIFIERS
Lithuania
Denmark
FYR Macedonia
SURE NON-QUALIFIERS
Switzerland
Belarus
Ireland
Slovenia
Albania